Reviews/Praise

Now and then a novel comes along that is so rich and so satisfying that after reading it once for the mesmerizing story, the natural order of things is to immediately read it again to luxuriate in the splendid prose, the sensitive insights, the perfect craftsmanship of construction that bears memorizing in spots. Such is Richard Alther's THE SCAR LETTERS. Perhaps part of the degree of impact this novel creates is due to the times - the significant changes that are happening in Equal Rights especially evident in the country's reversal of rules, if not altered opinion, about same sex relationships. But no, this novel can stand alone in any literary company and still be dazzling. It is without a doubt the finest novel of the year for this reader.
"One aspect of the theme addresses love and the search for same in middle-aged protagonists, instead of yet another coming-of-age first love story, or a marriage on the rocks with attendant devastation and the journey either down or hopefully up for the two people involved. Another theme is the scars of abuse from peers, scars that may physically fade but impact the psyche in that growing beyond them can be permanent - or not. And even another fresh aspect is the telling of passionate encounters without ever slipping into the trough of R-rated, now too popular soft porn and beyond.
"Rudy Dallmann was raised by his grandparents, unwanted by his birth parents, was slightly portly as a kid, came to recognize his gay self around age twelve but couldn't act on that. At age 20 he seeks company in a gay bar, leaves alone and is attacked in woods near where he has parked his car. Two boys beat him, cut two Fs on his chest (for Fairy and Faggot) and sexually assault him with a toilet plunger handle. The police do nothing to the boys - nor do they come to his aid. Life just proceeds. Rudy becomes a flower tender and lives alone with only a good friend, the buff and sexually promiscuous Tex, and a therapist named Jack who has issues of his own. Rudy, at Tex's encouraging, attempts dating through internet, meets the sexy Blake who is available only for temporary times, and finally decides at both Jack's and Tex's bidding to look back into his always submerged sexual assault of the past, eventually discovering the locations of the two lads who are now men. How Rudy meets the adult versions of his assailants and relates to them is far too well-sculpted and considered to say more. That is the bare bones of this intricately complex and immensely satisfying drama - the bones being housed in the flesh of a master writer whose skill bears watching and deserves applause.
"Every chapter of the book is introduced by stated facts of how gay men have been punished through history - terrifying to read, difficult to ignore. It is a catalytic agent that drives the book forward. Yet for all the negative history of both these unfortunates and the psyches of almost all the characters of this story, a consistent philosophy rises.
"Samples of prose: 'So either-or is a falsehood. Perception like life is a cornucopia of options, as in circling a traffic rotary and exiting here and there, always a tentative new turn.' 'You can lighten dark,' Jack sighs, not with impatience but the reverse, a calming exhale that embraces. 'That's why you're here. And as you said once before, Rudy, some bad with the good is essential for and defines the other. Makes us whole.'

"THE SCAR LETTERS is a profound autopsy of bruised lives and an offering of a reassuring hug that life can indeed go on."

Rudy Dallmann, a 40-year-old gay man, victim of an unresolved hate crime, tries to reconcile his past and move on. He is a quiet, honest man and knows that he must do this if he is to continue to live.
"As we read, we not only identify with Rudy but we enter his mind, take part in his past, we feel his pain and his resolution that in some ways raise him up. To say that this is one of the most beautifully written books that I have read in a long time is an understatement — every word seems deliberately chosen to provide power to the gorgeous prose here.
"The text also contains accounts of other hate crimes that gay people have suffered over the ages. But this novel is also a reflection of the times now that equal rights relating to sexual orientation are being openly discussed.
"I am an avid reader but am not often knocked off my feet by both plot and language. I can honestly say this is not just one of the most beautiful books I have read this year, it is one of the most beautiful books that I have ever read.
"We do not often get novels with gay themes about men of middle age and their search for love. We have been over-burdened with coming-out stories that rarely have anything new to tell us. This is where Richard Alther excels. The novel also deals with the issue of hurt that gay men are forced to live with because others do not see us as equals. The scars that result from that abuse stay with us and can hinder our growth. Something else that Alther achieves—he does not avoid writing about sexual encounters but does so in ways that the eroticism comes from us and not from his written word. It is nice to have a book about men and sex that is not sordid.
"Rudy finds the two men who assaulted him. What happens will require you to read the book. Rudy thought he'd never heal from the wounds inflicted that night, but he finally decides what he must do to heal.
"'The Scar Letters' grabbed me early and I felt almost every emotion as I read. When I first met Rudy, I wanted to hold him and tell him to be strong and hold on. He broke my heart as I read and wept about his story. But as an adult trying to figure out his mess of a life, I cheered for him and he became my new best friend. His journey became my journey, and as he made peace so did I.
"We see there is indeed love in this world—we just need to find it. We need to find ways to move beyond the pain we have felt even when things do not look good or go our way. The most important thing that Rudy and Richard Alther tell us is that a wound will never heal if it is unattended.

"If I had to pick one word to describe this book, it would be a simple "Wow!!!" If you read no other book this year, make sure that this is the one.

In this era full of headlines about the "normalization" of gay families, it's nice to be entertainingly reminded that only a little more than a decade ago lesbians and gay men were bravely making strong, admirable families on their own without benefit of either clergy or the Supreme Court.  LGBT bonding is easier and fairer now that legalization has arrived in many locales, but the practice is really nothing new, as we're reminded in Richard Alther's graceful, big-hearted novel, set back in the 1990s, about a gay man in search of love, companionship and his own truest self.
In his charming 2008 novel, The Decade of Blind Dates, Alther gave us a likeable gay man looking for the perfect partner on the Internet, and Alther deftly exploited the endless comic possibilities in that fraught exercise.  Although The Scar Letters is wonderfully witty, too, it opens with an incident that's not funny at all.  Fresh out of college and working as a florist's assistant, Rudy Dallmann is raped, beaten and scarred by two teenaged boys late at night in a public park.  The older and more sadistic of the pair carves two big F's on Rudy's chest, for fairy and faggot.  A bigoted cop blames Rudy, and he doesn't even file a police report.  The scene as Alther writes it is beyond nightmarish and all too believable. 
Eighteen years later, in the same New England small city, Rudy's physical scars have faded, but the mental damage hasn't.  He's a "vanilla plump" forty-year-old who's happy in his work growing flowers, and producing "compost good enough to eat," but too shy and insecure to seek out the man he'd love to share his good life with.  Rudy is still haunted by the attack (which happened after a visit to a gay bar) and lives in what his old friend Tex calls "self-protecting isolation."
As drawn by Alther, a writer of both keen eye and nimble wit, Rudy and Tex are a memorable pair.  They had sex in college but soon lost interest in each other's bodies and became life-long pals.  As in all rich friendships, it's complicated.  Tex, who's an ace fundraiser for an AIDS program, hectors Rudy about his letting two long-ago goons rule his emotional life. And Rudy insists to lithe, sexy Tex, who hops merrily from bed to bed, that he's missing out on a lot by being "forever single, developing pecs instead of potential mates."
It takes a while --- the length of the novel, in fact --- for Tex to accept Rudy's good advice and maybe settle down.  But Rudy sets out much sooner to overcome his own paralyzing anxieties by (a) responding to gay men who show a romantic interest in him and (b) confronting his demons --- literally.  He actually tracks down the two perpetrators and confronts them.  The way Alther handles this dramatic development is entirely plausible, and it is riveting. 
Alert readers are going to see it coming, so it's not really giving anything away to report that of the romantic relationships Rudy slips in and out of over the course of the novel --- with a sexually confused piano teacher, with a man still in love with his dead long-time boyfriend, with an opportunistic aging flower child --- it's Stan Wentworth, one of Rudy's two attackers, who in the end shows the most potential as a mate for Rudy.  (Bud Briggs, the older and more sadistic of the violent teens, is still a dangerous loser.)
Alther has a nice way of making his numerous secondary characters come instantly to life.  Wentworth's laid-back ex-wife Grace and her girlfriend Jill, "a dwarf bratwurst about to explode," are a vivid and recognizable pair.  Life is a serio-comic minefield for an "ex-gay" named Bryan who arranges a softball game involving gays, ex-gays, and ex-ex-gays, one of the funniest set pieces in the novel.  A bit less successful as a character is a psychotherapist named Jack with problems of his own.  He seems to be in the novel mainly as a device for Rudy to talk about his dismal early life being raised by his dour grandparents after his unruly parents died in a car crash.  There's plenty of smart, colorful palaver in The Scar Letters, and the best of it is outside the clinical setting.
An effective device Alther uses to show where Bud Briggs's homophobic malice comes from is an epigraph at the start of each chapter describing anti-gay atrocities throughout history.  Here's an excerpt from an 18th century French legal encyclopedia: "The Swiss exercise extraordinary rigors against men guilty of this crime.  They cut off one limb after another in the course of several days --- first an arm, then a thigh; when the body is a lifeless trunk it is thrown on the fire."   Alther also includes a short made-up medieval saga that shows the savage homophobia and the sexual hypocrisy of an earlier age, as well as the love and decency gay people were capable of back then, even at the expense of their own lives. 

It's lamentable that the great post-Stonewell gay lit revolution in the United States has largely petered out, but with writers like Richard Alther plugging away so winningly, that revolution's spirit lives on. 

THE SCAR LETTERS by Richard Alther is a beautifully written account of a gay man's psychological and emotional journey from being the victim of a chilling hate crime to blossoming into a self-assured individual. Rudy must reconcile not only the horrible memory and scars of his attack, but also his childhood and romantic past.
"There are many sexual scenes but they do not cross the line of typified erotic fiction. This novel not only explores sexuality but stereotypes and expectations of gays as well.

"Beyond fiction THE SCAR LETTERS is a valuable player in the social battles and conversations that permeate the media and all of our relationships today.

There is certainly no question that Richard Alther's new novel, The Scar Letters, transcends the genre of gay fiction, but to label it 'literary fiction' could too easily dissuade a sensible reader from picking it up, reading a few pages, and then sitting back with a sigh of satisfaction, knowing that here is a really good book.
"The Scar Letters is narrated by Rudy Dallmann, a gay man in his forties, who was brutally attacked and raped some twenty years earlier, and has lived in semi-isolation ever since. Forced by his longtime and closest friend, Tex, to confront the issue, Rudy sets about in his own quietly determined fashion to reconcile his past with his present and hopes for the future. Rudy is not the sort to 'assert himself into everything dead-center,' but he is an honest man, with himself and others—not a small accomplishment in a gay or any other world.
"This is a very compelling story—a universal story—difficult to believe anyone could have told it better. Alther handles narrative and characters like a truly gifted film director or cinematographer. We are in Rudy's head, but the camera sweeps, darts, settles, focusing on one aspect and then another of the well-developed supporting cast. Location and action merge effortlessly into memorable scenes, and the often troubling past is filtered through the emerging present, leaving narrator and reader (as Rudy says after hearing Mahler) "hushed, drained, somehow elevated." There is never an awkward sentence or a sentiment that disappoints.
"Alther intersperses his story with accounts—often just a few sentences, a full chapter in one instance—of the horrifying treatment homosexuals have encountered throughout recorded history. There is nothing heavy handed about this; it is simply there to remind the reader that it has always been there and for a variety of reasons. At this particular time,

as the country grapples with the issue of same-sex marriage, Alther's calm recitation of this horrendous heritage should certainly give pause to those of us who have never lived with this kind of fear.

The Scar Letters: A Novel by Richard Alther is a sensitive, beautifully-written and ultimately moving and heartwarming account of a modern gay man coming to terms with personal pain and human suffering.
"As a young man, a little dumpy and socially-inept, Rudy Dallmann was the victim of a cruel hate crime. Mugged outside a gay bar, he was raped and terrorized at razor point by teenage queer-bashers. Double F's—faggot and fairy—were carved into his chest with the blade.
"The novel begins with this horrendous event. A warning: the first chapter is hard to read. The story is told in Rudy's first person, so the reader is inside his experience. As things begin to unfold, we learn Rudy's become reclusive, sexless and isolated, living in the country as a nurseryman with his flowers as his only friends—save one, a gay guy named Tex whom he's got an unrequited crush on, an AIDS care volunteer who'd come to the rescue following the assault so many years before.
"As the eighteenth anniversary of the attack is coming up, Tex encourages Rudy to break out of his shell and to see a therapist to work on getting over the trauma that still burdens and cripples him. We discover Rudy's history through the introspection that follows from being in therapy. The story is beautifully told as recollection is woven into the narrative.
"In coming to terms with the assault, Rudy goes in search of the police records, and though there was no report filed on the queer-bashing, because the boys who attacked him were picked up for car theft that same night, he is able to find photos and discover their identities. Rudy seeks them out. The two have gone very different directions: Bud into a life of failure and petty crime, Stan into a successful job, a bland marriage and team swimming.
"Rudy joins the swim team, and whole new layers of the characters—both Rudy and Stan—are revealed and the story takes a surprising and satisfying turn.
"Each chapter of The Scar Letters begins with an epigraph citing terrible punishments meted out to poor homosexuals in the past. One whole chapter, in fact, recounts a tale of gay persecution in a medieval prison.
"This isn't a light romance, though it has moments of lightness and of romance. Underlying the story is a question of how we bear the weight of human suffering that comes down to us all through history. So much pain has been caused human to human, and especially to people of different sexuality.
"In the end, Rudy transforms his life, forgives the perpetrators seeing how they themselves were also victims of that horrendous act, resolves the trauma of long ago, and finds the love he has been longing for—and it's a wonderful twist.
"Perhaps the message is that in our happiness today as self-affirming gay men and well-intentioned seekers of love and fulfillment, we somehow receive recompense for the horrors wrought upon our predecessors.

"The Scar Letters is a beautiful, wonderfully readable, and spiritually, emotionally uplifting novel of personal transformation and triumph. A great read.
"'The Scar Letters' is a powerful story: well-written, heartfelt, and, at times, shocking. A must-read, but also not for the faint-of-heart."
"THE SCAR LETTERS by Richard Alther is an excellent, thought-provoking novel. The author has a tremendous talent for writing. The story is complex on many levels, so readers will find themselves quickly caught up in the drama. Experiencing Rudy's likeable character finally healing and evolving is enriching. He seems so real, not easily defined."
Praise for RICHARD ALTHER
"Richard Alther moves from horror to felicity with a wise and witty hand."
"The author's beautiful command of the English language, coupled with his obvious sophistication, world-wise ways, and immense insight into human nature, begs the reader to forego dinner, forget work, and simply sit back and enjoy the ride."
"Alther is a talented author with a knack for creating beautiful sentences that reflect the protagonist's emotional state."
"Richard Alther is smart to show many sides of gayness that go beyond stereotypes."
"Alther has the potential for becoming a highly acclaimed writer. He writes with realism, and is proficient in articulating intellectual subjects of culture, philosophy, the arts, music, and education."
"I can usually tell right from the beginning whether or not a book is going to be a good read. There was no doubt in my mind after the first couple of pages, because Richard Alther has a clever writing style that makes his novel very entertaining."
Praise for SIEGFRIED FOLLIES
"Some authors assume we will read anything with a swastika on the cover, and they seem to be right. But other authors inject real human drama into what can be an overwhelming narrative. Richard Alther has done this in Siegfried Follies. He's framed the whole book in the narrative of Hitler's Germany, but he's crafted beautifully detailed characters within."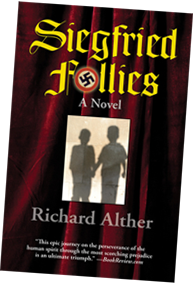 "This story is a powerful saga with engaging characters. It's the result of the boys' traumatic childhood living under horrific circumstances, and the emotional and psychological damage they carry into adulthood. It is a story of brotherly love and personal demons that shape their lives, the choices they make, and their relationships. Readers will be riveted by the attention to detail regarding life in Germany during World War II. I highly recommend Siegfried Follies to those who enjoy well-written, compelling, and emotionally engaging sagas"
"Siegfried Follies is a novel which addresses a powerful and haunting period in world history, a story that will be of special interest to avid readers of World War II literature and the Holocaust. Alther writes with sensitivity on the subjects of seeking ancestral roots, family, community, and the complex issue of self-identity. This is memorable writing that will disturb the reader long after the final chapter."
"Little does Franz, a German orphan, know his kind and perhaps rash and dangerous act of saving a Jewish boy from certain death will lead to an unlikely thirty-year-long friendship. If you enjoy reading about the Holocaust, survival in spite of all odds, and sweeping, epic stories of love, jealousy, betrayal, and redemption, you'll definitely want to add Siegfried Follies to your reading list today!"
"Two children grow up together, learning the world as it is, and we watch them mature as they make their way from home to home, country to country, until separating and finding one another again in America. They discuss their lives and all its meanings, done in such a way that feels spiritual but doesn't beat you over the head with the author's message. The drama between Franz and J is real and unforced. As children they are unable to understand the chasm that divides them as a Nazi and a Jew, but as they grow up after the war, their differences manifest themselves. They move apart physically as well as emotionally, each responsible for his own inner journey.
"Siegfried Follies is laden with the symbols of this journey. The soldier dolls that J makes to sell for food feels eerily reflective of how Nazi Germany made dolls of its people. Labeling them, setting them to work, and trashing them at their whim. Similarly, towards the end, Franz will identify himself also as Jewish, having grown up under J's influence, and realizing they are one and the same. The depth of research and attention to detail give Alther's epic journey of time and family a relevance and ultimate triumph. "Siegfried Follies is a gripping and memorable read on the perseverance of the human spirit even through the most scorching prejudice."
"For Franz and J, the two exactingly drawn men at the center of Richard Alther's heartbreaking saga of Nazi brutality and the weight of the past, nothing is ever lost except innocence and--almost but not quite--hope. What a pleasure to read an ambitious novel that resonates so powerfully with historical truths and with the struggles of people for whom history is the central fact of their broken lives."
"With an historical sweep grounded in twentieth-century Germany, Israel, and the United States, Siegfried Follies is by turns keenly observed, screamingly funny, and quietly reflective."
"How could Germans create a Holocaust? What is in the Jewish spirit that has provoked persecution through the centuries? Unflinchingly, in exploring the psyches of two men and the culture in which each is embedded, this rich novel probes the world as a whole.
"Richard Alther delves into German and Jewish history, the Talmud, the Old Testament, Wagnerian opera, and writings ranging from Mein Kampf to stories from the Baal Shem Tov, resulting in a riveting story of two orphans, polar opposites, who forge an intimate bond."
For more details please visit: www.siegfriedfollies.com
Praise for THE DECADE OF BLIND DATES
"Think you've read read it before? You haven't... Peter has everything. A loving ex-wife, successful, happy and healthy children, financial freedom to pursue a career as a painter. But finding that one special person who would share his dreams as well as his blanket... Think you've read it before? You haven't. Not this story. Powerful passages left me breathless as Peter painted his fears and guilt, his painful memories. Strangely, now they seem my memories, too."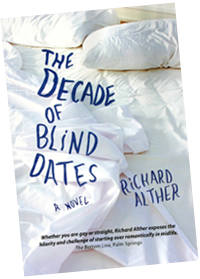 "Provocatively funny, sad, yet genuinely joyful storytelling... of the ten years of intimate explorations of Peter Bauman, artist and admirer of beauty, after the occasion of his coming out. Laughing with hilarity, crying so I could not read through my tears, and re-reading paragraphs and descriptions just to enjoy them once more. (Alther's) musings on the meaning of relationships are so enthralling as to drag the reader into a vortex of thinking, feelings, fearing, enjoying, regretting, impossible to resist."
"In its way, revolutionary. The quintessential nice guy cast as a fish out of water allows readers to identify with him along this winding road to love. Topics such as how children deal with a parent's new lifestyle or how the loss of intimacy with a former partner of the opposite sex can unfold dominate the story. Alther is telling his readers that this need not be a taboo subject, and that nothing in nature could be more natural than homosexuality. Rarely are such novels written from a gay man's perspective, let alone a gay dad's perspective. Richard Alther has certainly broken through stereotypes to produce a work as charming and funny and, in its way, revolutionary. One needn't be gay to enjoy this book, just as one needn't be straight to enjoy a novel told from the perspective of a man seraching for his lady love."
"We are cheering for this guy. We are cheering for ourselves... (Peter) wants what we all want, happiness, and (won't) settle for less. This is a sexually explicit account that would probably be better appreciated by a male, gay audience, though I have to say it gives a straight reader, like me, insight into what that lifestyle is like, and as a divorced, middle aged person I found myself empathizing with this man who is starting over. The writing is breezy and entertaining. The chapter on Peter's mother is heart-wrenching, and the ending is very satisfying. The scenes between characters and their dialogue are always credible. Along the way Peter must also deal with cancer and subsequent impotence. We are cheering for this guy. We are cheering for ourselves."
"No doubt... after the first couple of pages... Richard Alther is very creative and talented to come up with the zany characters in this novel. Richard has a wonderful sense of humor. You will find yourself laughing out loud. One word of warning: some of the explicit details must be there to create the stage that makes the whole scene hilarious. There are also some serious issues such as AIDS and cancer, done in a compassionate, sensitive manner. I would love to see this book made into a movie! If you are looking for a read to make you laugh, add The Decade of Blind Dates to your list!"
"This well-written and engaging novel helps us clarify the difference between having sex and making love, and how to succeed in the search for a true soul mate."
"Dispels many stereotypes... Readers will laugh and feel for Peter as he blindly searches to find love again. His journey is one of extraordinary relationships that involve comical situations, sadness, grief and loss. With each man he meets, Peter discovers more about himself. Whether straight or gay, readers will identify with Peter's struggles over love, companionship, friendship and acceptance. Comical and tender, The Decade of Blind Dates is an adult story that dispels many stereotypes and reveals the common dilemmas we all face."
"Spectacularly witty... The Decade of Blind Dates is a brave novel, a remarkable work of social and personal history. It is gay life as so many Americans lived it in the last decades of the last century, an alternately glorious and confounding picaresque of the mind and heart. It is also spectacularly witty. I started writing down lines that made me laugh out loud and soon ran out of paper."
"Hilarious... Pre-Internet personals, perseverance, and a strong swimmer's sturdy build all pay off for the narrator of this engaging episodic novel about a rural gay artist's decade-long-search, after coming out at midlife, for heart-connecting love, not just sweaty sex. Alther's word portraits of men met along the way, among them a Nordic-god New Age bodybuilder with a dull black toupee, a burly Bear with a bagful of erotic toys and a miniscule member, and a reclusive basket-weaver with magisterial forearms, are as humane as they are hilarious in a warm-hearted story."
"A very serious novel about dating... The Decade of Blind Dates is refreshing in its realism about what gay men experience, friends who die of AIDS, gay men who marry in an attempt to convince themselves they are straight, only to end up divorced. It's not just about hot sex but rather a very serious novel about dating. Anyone who has suffered through years of dating to find a soul mate will feel empathy and humor over Peter's situation."
"Whether you are gay or straight, Richard Alther exposes the hilarity and challenge of starting over romantically in midlife."
"Deep and optimistic... The search for love is always paramount, even when the sex is great, in The Decade of Blind Dates. (There are) letters with which first contact is made between our hero and his potential conquests. And what letters they are! Alther's first novel is both deep and optimistic. Instead of giving up, Peter is consoled by his own self-esteem, a lesson in which any single person can take comfort."
"I found a wonderful friend in Peter Bauman and got very involved in his story which made the book hard to put down. Richard paints such clear word pictures. I loved every minute, be it naughty or nice, and truly related to many of Peter's feelings and needs. I hated to have it end, and look forward to a sequel."
"This is an excellent adventure. Peter, a divorced gay man, embarks on a scavenger hunt for his soul mate, struggles through a web of truly eccentric dates which will take you through many amusing situations; breezily written, very gay. (I am straight, so the explicit sexual imagery was interesting.) Relief came with Peter's conversation with his dead mother while painting her portrait. Opening up his past family relationships, Alther lapses into some beautiful, touching prose I hated to leave.
I loved the ending, and closed the book feeling entirely sated. You will, too."
For more details please visit: www.thedecadeofblinddates.com